ÉTATS-UNIS
Des jumelles blondes âgées de 13 ans chantent la haine raciale
"Le mouvement suprématiste blanc américain a un nouveau visage angélique : des pop stars sœurs jumelles et adolescentes dont les chansons contiennent des messages de haine raciale", écrit le quotidien britannique The Daily Telegraph.

Lamb et Lynx Gaede, 13 ans, cheveux blonds et yeux bleus, de Bakersfield, en Californie, ont débuté leur carrière à 9 ans et sont en train d'enregistrer leur deuxième album. "Leurs chansons ont des titres comme Sacrifice, un hommage au dauphin d'Hitler, Rudolf Hess, présenté sous un jour élogieux comme 'un homme qui ne voulait pas abandonner'." Leur duo s'appelle "Prussian Blue" et a "un tel succès auprès des suprématistes blancs que David Duke, l'ancien leader du Ku Klux Klan et candidat à la présidence, les utilise pour faire campagne".
Sur scène et devant leurs fans néonazis, les jumelles Gaede n'hésitent pas à lancer des saluts hitlériens. Lamb et Lynx se disent "fières d'être blanches" et soucieuses de "préserver leur race". Leur mère, April Gaede, semble être leur principale source d'inspiration. Elle est elle-même membre du mouvement néonazi National Alliance, et elle a élevé seule ses filles après son divorce, en les retirant de l'école publique.
La controverse suit ces "sinistres copies" des jumelles Olsen, elles aussi jeunes et blondes étoiles qui ont brillé au cours de la décennie 1990, mais en empruntant un tout autre registre avec leur sitcom de bon ton et leurs films pour enfants, note le journal. La dernière provocation des jumelles Gaede s'est produite après l'ouragan Katrina, qui a durement touché la communauté noire de La Nouvelle-Orléans. Elles ont "stipulé que l'argent qu'elles ont donné pour aider les victimes ne devrait servir qu'à des Blancs".

---

Twin pop stars with angelic looks are new face of racism America's white supremacist movement has an angelic new face: twin teenage pop stars whose songs preach messages of racial hatred.

Prussian Blue, a "white power" band now recording its second album, is described as a sinister version of the Olsen Twins, the squeaky clean child actresses of the 1990s. It is attracting more and more fans among young white nationalists.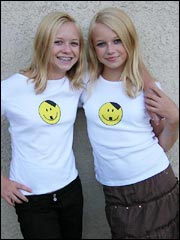 Prussian Blue
Lamb and Lynx Gaede: 'We are proud of being white'
Lamb and Lynx Gaede, blonde, blue-eyed 13-year-olds from Bakersfield, California, have been entertaining all-white crowds with their music since the age of nine. Lamb plays the guitar and Lynx the violin.
Their songs have titles such as Sacrifice, a tribute to Hitler's deputy, Rudolf Hess, that praises him as a "man of peace who wouldn't give up".
Performing for such groups as the neo-Nazi National Alliance at Holocaust-denial events and festivals entitled Folk the System, the girls execute Sieg Heil salutes while belting out lyrics such as "Strike force! White survival. Strike force! Yeah."
"We are proud of being white," Lynx told ABC News. "We want our people to stay white…we don't want to just be, you know, a big muddle. We just want to preserve our race."
The twins have such a high profile among white supremacists that David Duke, the former Ku Klux Klan leader and presidential candidate, uses them to attract support.
Critics have condemned the twins' message and say that they have been brainwashed by their mother.
"It breaks my heart to see those girls spewing out that kind of garbage," said Ted Shaw, the president of the National Association for the Advancement of Coloured People's Legal Defence Fund.
The twins' act was recently withdrawn from the Kern County fair because of "security concerns". Their mother, April, 38, a former member of the National Alliance, told the Bakersfield Californian that her daughters were upset. They "simply want to perform their songs: songs about Vikings and German history", she said.
Miss Gaede has brought her daughters up on racist beliefs using textbooks from the 1950s. She is separated from their father, who is said to have similar views and has a swastika on his belt buckle.
Prussian Blue, under contract to the white supremacist label Resistance Records, is one of a number of extremist pop bands, such as Blue-Eyed Devils and Angry Aryans.
The twins' first album featured songs called Road to Valhalla and Aryan Man, Awake. They depict a world "where freedom exists for only those with darker skin" and encourage the Aryan man to awake and "turn that fear to hate".
The twins recently came under fire for stipulating that money they donated to the victims of Hurricane Katrina should go to whites only. In a recent interview with the magazine Viceland, they were asked what was the "most important social issue facing the white race right now". They replied: "Not having enough white babies born to replace ourselves and generally not having good quality white people being born."